10 years later, our situation isn't much better, in spite of what our benevolent dict... I mean madam president Cristina and her husband have to say.
Below is an article from July 2010.
Tuesday,
January
5th
2010
- 13:06 UTC
Argentina's inflation third highest in the world, say private consultants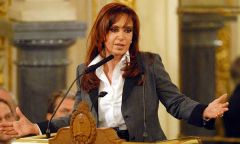 President Cristina Kirchner insists that inflation remains one digit
According to the administration of President Cristina Fernandez de Kirchner inflation in Argentina last year was below 8% taking into consideration that the accumulated in the first eleven months of 2009 was 6.7%.
However independent economists, business organizations, consultants, consumer groupings and even trade unions indicate that "real, non cosmetic" inflation in 2009 ranged between 15% and 18%.
Thus according to private consultants in Buenos Aires and some provincial governments which have their own statistics offices, Argentina ranks third in the IMF inflation list which has Congo with 31.2% at the top followed by President Hugo Chavez Venezuela with 28%.
Mariano Lamothe, an economist from consultants Abeceb, estimates inflation in 2009 reached between 14% and 15%. Consultants Joaquín Ledesma & Associados argue "real" inflation accumulated in the eleven months of 2009 was 14.3% and Ecolatina, founded by former Minister of Economy Roberto Lavagna considers that the average inflation in Argentina between 2005 and 2009 was 17.8%.
Ecolatina anticipates that the recovery of economic activity in Argentina during this year is going "to accelerate inflation even more" and adds that "without an official plan it's going to be very difficult to contain the increase in prices".
Ecolatina argues that following several years of strong rates "the inflationary dynamics has its own inertia which makes it into a chronic problem".
For 2010 the administration of Mrs. Kirchner estimates inflation at 6.1%, however Ecolatina anticipates it will be closer to 17%. Economist Carlos Melconián forecasts between 18% and 20% while Credit Suisse in a recent report anticipates "real" inflation in Argentina will be in the range of 12% to 14%. Barclays Capital has told its investors Argentine inflation in 2010 can be expected to be in the range of 16.5%.
So, its pretty clear that Argentina is not something you want to imitate. At the same time, I must say as I often do, that lives goes on in spite of all this. Even if the worst outcome happens, life just goes on and you manage, you survive. But to do so better than the rest, you have to be prepared, in material terms but most important mentally speaking, and that's where this blog will help you. How does that work? These articles above, those are numbers and statistics. Behind those there's people, lives, stories. Those are the ones that help put together a picture of what to expect, and if you can learn from those, put yourself in that place, then you can learn without going through it first hand. The stories I share about crime, poverty and such, that's their purpose. Because of this, I'll start posting every once in a while stories of people and places, so as to put a face and a better picture to all these numbers and statistics that sometimes feel cold and abstract, but have very humane consequences.
FerFAL