Thanks Anonymous for the link:
I like these: http://depts.washington.edu/chinaciv/home/3intrhme.htm
Guys, the courtyard plan is as old as history itself.
It's not exclusive of the chinese. First examples were found in Mesopotamia 10.000 years ago where later cities like Ur, Uruk, and Babilonia were founded.
The basic courtyard design of succesion of courtyard cells became popular and can be found all over the world. From middle east, to Asia, Europe, Colonial and precolonial America.
Take a look. The idea isn't too actually replicate these,but adapt these to the style you like the most.
Generally speaking these types of construction aren't cheap, but a three-sided courtyard house is cheaper, and a two sided one can be made as well, using a basic L shaped house plan.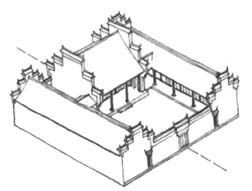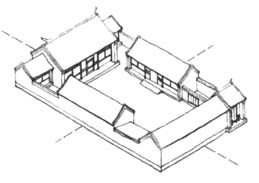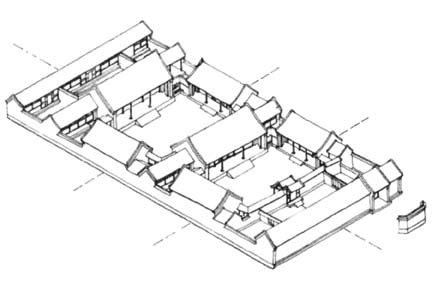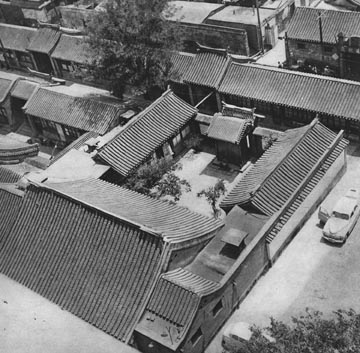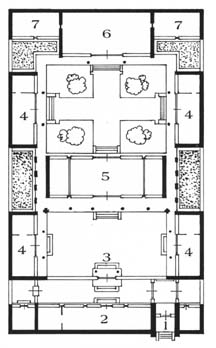 Uses of rooms in a typical two-courtyard house plan at left:

1. Main entrance
2. Rooms facing the rear. The rooms facing the back, those near the entrance to the courtyard were reserved for the servants if the family was well-off.
3. First courtyard. Cooking was carried out here, and the second courtyard was a living space.
4. East and west-side rooms, for the sons and daughters, or the sons' families.
5. Inner Hall. Where the members of the family greeted guests or where family ceremonies were held.
6. Main building. Living space for parents.
7. Small side rooms. These used for children and extended family members.
Edited to add: Changing the house ins't a possibility ofr most, but a perimeter wall is realtively simple to build and provides much better security.
FerFAL